Substation Groundwork Contractors
Foundations Groundwork are specialists in all sub station groundworks. We regularly work alongside UKPN or SSEN to provide the groundworks for substations and switchrooms.
When you first start looking for a substation you will find that the power suppliers will only provide the substations and cabling themselves within your boundary. They do not dig within your property, they are only digging and reinstating the main source of power outside your boundary (usually within the footway or another close substation).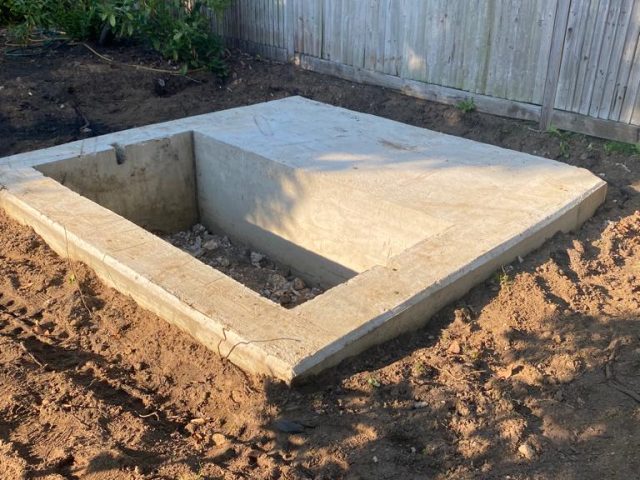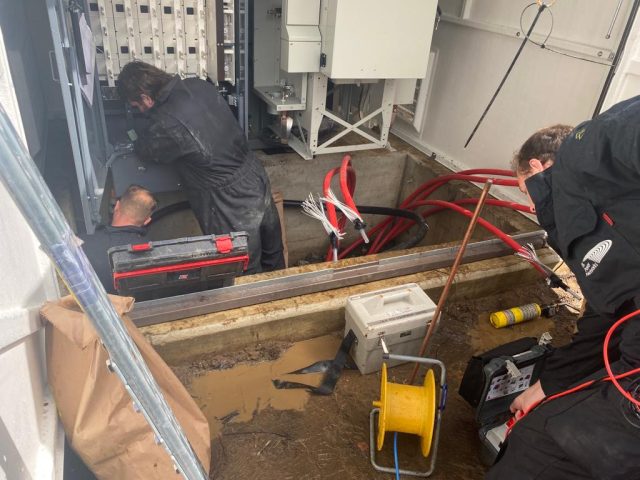 Substation Base Preparation
This is where we come in, we have a lot of experience in the groundworks that you are responsible for. We have performed templates for the shuttering for the base, we stock the electrical warning tape. We weld the required rebar for the reinforcement for the base, which we also weld the points ready for the earthing team. 
We supply and fit all parts of the substation base that are your responsibility which are required for allowing future access to the cables (depending on supplier).
We liaise with the power supplier to ensure that the substation and switch room are installed in the correct location and are easily accessible when needed for maintenance etc in the future. This has included creating gates in fences and clearing brush and creating paths so there is another route to get to the substation when the main gates close.
If you're looking for the groundworks for substations look no further! We have the knowledge tools, equipment and contacts to make the process seamless. We can also offer contacts that we have worked with several times for the earthing and the switch room electrics.
Typically with UKPN you are responsible inside your boundary for the trenches, ducting, blasting, warning tape, substation base complete, earthing, switch room complete including termination ready for meters.
Give us a call for a quote for all aspects of Substation groundworks. Substation construction companies.
Groundworkers for a Substation
We are based in Aldershot and we cover a 40 mile radius around this area.
This includes but not limited to: Aldershot, Guildford, Basingstoke, Farnham, Reading, Leatherhead.
Price for a Substation Base
Please contact us for prices on substation bases, foundations for substations and a complete site preparation service for a substation. Substation construction companies.
Foundations groundworks regularly install the groundworks for substation bases. We can work alongside an appointed earthing team or we can supply the earthing through our partners.

You have probably found this page as you are either weighing up the options of going direct with either UKPN or SSEN or you have committed to them already. We have experience dealing with either company. Neither dig trenches or a hole for the base which are the most vital part of the construction of the substations. Without trenches the cable cannot get to the sub station and without excavating the base the sub station will not be able to be installed. With UKPN they require for laying the cables to and from the substation all excavations, supply and installation of ducts, sand
blasting, stage backfill, warning tape and reinstatement.
SSEN however also do require all excavations, sand blasting and reinstatement but they supply and fit the cable direct to the excavated trenches. For the base itself we have preformed shuttering, angle brackets etc all set out in the correct dimensions including earthing points ready for the concrete pour.

If your looking for a specialist substation groundworks company then Foundations Groundworks are the right company to quote. We have the experience, workforce, plant, machinery and more importantly the ethos to deliver within the specified time scales to ensure no delays.
It was a pleasure dealing with Dave and Gary. They were prompt, courteous, knowledgeable and very competitively priced. They kept me informed at all steps of the process and found solutions to any hurdles that were encountered during what was a fairly difficult job.
Great company to work with Gary and David went above and beyond to make sure the job was completed on time to so the gas could be connected without additional costs for not being ready. They trenched in all utilities at the end of Jan 19 through the snow storm (we did'nt expect them to turn up on the Friday let alone at 7.30 and leave at 6 when they managed to finish!) Highly recommended.
Dave and his team were highly professional and helpful with sorting out our leaking pipe and replacing it with a new one. They were speedy, knowledgable and great to work with. I would reccomend them to anyone!
We use Foundation Groundworks for all of our groundwork. Would'nt use another company they are reliable, knowledgeable and price reflects quality of work which for us is good value for money.
Tel: 01252 235 367
Dave: 07415 319 581 
Gary: 07497 762 321 
Email: info@foundationsgroundwork.co.uk 
Address: 30 Mandora House Gallwey Road, Aldershot Hants GU11 2DD
Why do customers choose us? We are perfectionists. We thoroughly research a job before starting work, thus avoiding costly problems later. We use good quality materials. We keep customers updated throughout the project. We have exacting standards. We complete jobs on time, on budget and to specification. And we're tidy. 
We offer a wide range of groundwork services for more information on individual services: